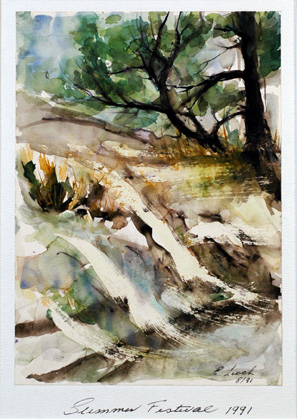 Born on the island of Haiti in 1925, Evangeline was home-schooled by her missionary parents Alice Henderson and Arthur Groves Wood.. Her creative spirit was nurtured by her mother and she began to paint at an early age. When she was only nine she received honourable mention for a watercolour of a hummingbird which had been included in a show for established artists in Cap Haitien.
The artist moved to Canada as a young woman to further her education, studying general arts at McMaster University in Hamilton, Ontario, and completing her registered nursing diploma in Toronto, at Toronto General Hospital. She married Arthur Leach, airline pilot, and, moving west to what is now Mississauga, continuing her exploration into the world of art as a Charter member of the Mississauga Artists' Workshop. From the inception of the Workshop, professional artists and instructors shared their approaches and techniques with the group and the artists explored multiple themes and techniques including: still life, life drawing, and abstract exercises. Evangeline's paintings from this period include delicate floral studies in oil and dramatic abstracts, which illustrate her versatility in both medium and subject.
Georgian Bay was to be a significant inspiration for Evangeline. After camping in the area for years, she and Arthur bought Green Island near Parry Sound, and a lifelong love of this breathtaking country was forged. The gnarled windswept trees set against the natural strength of the carved rock created an inherent rhythm, subject matter that she would paint over and over again. She was tremendously moved by the Canadian wilderness, which was evident in the pen and ink drawings that came to fill her sketch book.
In the early 1970s Evangeline began attending lectures given by Canadian composer and philosopher Kenneth G. Mills. Although she had known him for many years as a friend and the piano teacher of her children, it was not until she heard his spontaneous lectures that she realized his extraordinary approach to limitless creative expression. As well, his interest in her work both inspired and encouraged her. Over the years, Evangeline completed a series of commissioned as well as non-commissioned paintings in the idyllic setting in Muskoka where Dr. Mills held a Summer Festival of Light, Sound, and Peace.
Travel was always a significant motivation to paint new vistas and capture rare experiences of beauty. In the late 1970s, Evangeline flew to Tucson, Arizona, and she began to study the movement of light and colour across the mountains. So too, she went to Italy in 1975, initiating her series of paintings from Europe. Over the past thirty years, Evangeline's travels have also taken her to England, France, and Monaco, and some of her sketches have evolved into larger works.
Evangeline enjoyed exploring the world of collage, inks, and mixed-media. In the early 1990s she was asked by Dr. Mills, who had designed a couture line of exquisite and elegant gowns, if she would do some painting to enhance the fine silk of which some were made. And so she started a series of silk paintings. Testing at first, and then flourishing in this new medium, she painted directly onto the one-of-a-kind gowns with delicate oriental lines. She then continued her exploration of the medium, with silk paintings of birds and flowers. In the spring of 1993 these dresses were modeled as part of Dr. Mills' Moulins' Original collection, among other places, at the historic Ed Sullivan Theater in New York City.
Evangeline's love for the islands of the Caribbean never left her, and ever since one of her daughters moved to the Turks and Caicos Islands in 1990 she never missed an opportunity to visit this part of the world which was such a significant impetus to her creative formation. Once more, as when she was young, Evangeline connected with the turquoise waters and white sands, and continued her painting legacy of the islands.
Throughout the years, Evangeline's work was a highlight in group shows, from exhibitions in Mississauga, The Columbus Centre in Toronto, and other venues in Toronto, Aurora, and Muskoka. Her paintings are found in private collections throughout Canada, the United States, Europe, and the Turks and Caicos Islands.
Those who knew Evangeline were moved by her light and loving nature as well as her strength of spirit, and these attributes breathe through her work.